On January 1 2008, Bournemouth Freemasonry celebrated 50 years in its home at The Knole.
Fifty years in one of the most interesting Masonic Halls in Hampshire and Isle of Wight, fifty years in a building regarded by architectural historians as one of the finest Victorian houses remaining in Bournemouth today, designed by a leading architect of his time and the former home of the first MP for Bournemouth who was also a member of Boscombe Lodge for almost forty years.
The move to The Knole by the Lodges from the previous two Masonic Halls in Bournemouth coincidentally came some 80 years after the building of the first Masonic Hall in Bournemouth at St. Michael's Road. So this year we are celebrating also some 130 years of Freemasonry in Bournemouth!
Built originally by a wealthy Victorian philanthropist, The Knole had a varied history as a gentleman's residence, a family home, a wartime military HQ, a children's home and a private hotel before the Freemasons rescued it from demolition and saved the many Arts and Crafts features of the building for future generations.
The Knole has a number of links to the development of Boscombe and to mark this Golden Anniversary, Bournemouth Masonic Buildings Ltd are publishing a book by Michael Drayton that will be of interest to Mason and non-Mason alike. It contains the story of The Knole and its social background as well as outlining the development of Freemasonry in Bournemouth from the earliest times of the Lodge of Hengist in Christchurch up to the present day.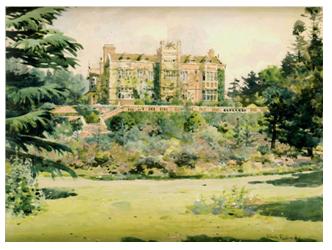 The Knole "The Story of the Home of Freemasonry in Bournemouth" by Michael Drayton is available from Freemason's Hall, Knole Road, Bournemouth – price £10 plus £1.20 p&p.