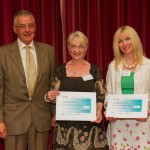 Bournemouth Freemasons donate £1,200 to @butterflybmth Butterfly Foundation. Julie Johns, Creative Director, receives the cheques from Nigel Davis of Jubilee Lodge, £500 of which was donated via the Hampshire and Isle of Wight charity 'Tom Langton Fund'.
Based at the Bourne Spring Centre, Bournemouth, Butterfly is an on-going support group for adults, young people and children affected by domestic violence by utilising performing and creative arts.
The money will purchase much needed office equipment and provide 2 clients with one-to-one specialist counselling.